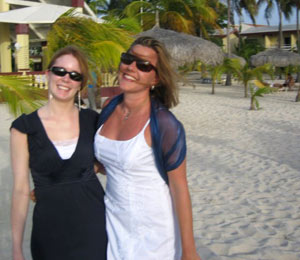 I enjoy this picture of me and Caitlin.
Being tan is a good thing.
For some.
3 Responses to "Caitlin & Shira in Aruba"
Dawn

[ 25Apr08]

I was confused for a minute, I didn't see Caitlin-then I realized she was just blending in with the sand.

Love you Caitlin 🙂

Frances

[ 05May08]

hahahahah!!

i cant believe it has already been a year since we were enjoying the beach. a beach reunion anyone?!?!?

Cailtin K

[ 05May08]

YOU can't believe it's a year….think how I feel?!?! i second the beach reunion..and that was a low blow by miss eatough…nothing wrong with being a little pale..
Leave a Reply