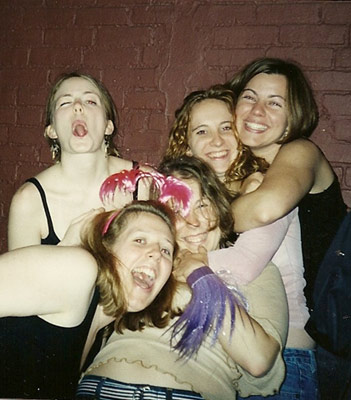 Okay, brace yourselves.  Picking another one out of the archives: Remember this night?  I don't think I've ever cried so much in my life…okay, besides the time I broke up with my first true love and the time I forged my Mom's name on a bad math progress report. 
What emotion!
Other than the crying, I really don't remember a whole lot about that night, do you guys…who bought the colored hair thingies?  I do remember losing mine at some point during the night.  They were those metallic snap on bracelets that if you snapped on too hard, you ended up hurting yourself.
And I remember that I refused to buy a beer mug for $5…I hate beer (and besides, wasn't that a scandalous price for a plastic cup?!). 
I remember being on a bridge at some point and drinking out of a fish bowl filled with some brightly colored beverage…
And maybe a taxi…
2 Responses to "Binghamton Beer Crawl 2003"
Dawn

[ 04Jun08]

Pretty much the only recollection of that night that I have is cracking my head on the pool table when I fell. I think it may have been Laura that got us the flair? Very blurry…which is wierd because we all look so sober in that picture…

Cailtin K

[ 05Jun08]

We all look sober? Look what the other Caitlin is doing with her tongue? I don't think i Remember too many of the details either..but now that Dawn mentioned the head banging part i vaguely remember that..that and lots of beer..and i think we ended the night at the Rat like we ended all good nights in Binghmaton..i never thought i would miss that rainy town so much!
Leave a Reply