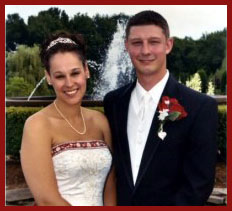 I just saw Nicole's wedding pictures–check them out for yourselves on Snapfish (you'll have to fill out the free registration form if you're not registered yet). 
 I love the red detail in your dress, Nicole.  Hope married life is treating you well. Congratulations!
Where did you go on your honeymoon?
I can't believe everyone is getting married.  What the heck.  I may have to photoshop a picture of me in a wedding gown to see what it feels like…