Work on the new house is moving right along!  In fact, it's practically done!  Yesterday, Flavio – our fallegname di fiducia, or faithful woodworker and furniture builder – came to get the precise measurements for the kitchen, kitchen pantry, bathroom sink base, inside doors, baseboards and hallway armoir.
Yeah, he's basically in charge of everything that has anything to do with wood in the house.  So far he's put in the second story staircase.  Which I can finally clean up since everyone is done painting.  (I seriously don't understand how people can make such a mess when they work and then not clean up after themselves.)
And he's also done the wooden flooring that's in both bedrooms, the hallway and the guest bathroom.  It doesn't have the final coat of finish on it yet – he'll be coming back to do that when most of the other work is done.  We really love the flooring, which is an industrial flooring made up of lots of little pieces…a picture says a thousand words:
This week Luca tried his hand at some Venetian stucco in the guest bathroom.  It came out really cool!  He's still polishing it up some more, so I'll post another picture when it's all done.  But here's one from yesterday.  If you're not familiar with it (I wasn't!), Venetian stucco is a sort of polished plaster.
Basically you apply two or three layers of really thick "paint" with a chocolate spreader (well, that's what I call it, it's a type of metal spatula), keeping it at 30° and you have to really spread it a lot and let it dry between coats.  Then  you polish it (we learned a trick that involves drying and buffing with a hair dryer that works great).  When it's done, the wall isn't a uniform color and it looks like glass!  It feels like glass too.  It's a very cool finish.  For the moment, we're just doing the one pillar in the guest bathroom dark red, but we already bought two other jars of grey  to put somewhere else (not exactly sure where we're going to use it because the original idea has been shot down…if you need any grey venetian stucco, let me know).  In the picture at the left it hasn't been polished yet.
I'm so excited for my camera di creatività (creativity room)!!  I might move in early so I have somewhere to store all my stuff.  It's such a pain having to haul everything out every time I want to do a craft or hem a skirt.  I'm already dreaming up things I can do in the room and collecting some interior design ideas.  You can check them out on Pinterest and leave comments if you want.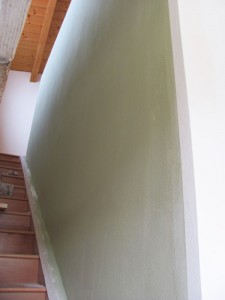 I amazingly managed to convince Luca that we needed some more color in the house and here's our new green wall on the stairway that goes up to the third floor:
Now that it's there he loves it as much as I do – a little color never hurt anyone, though sometimes you have to be courageous to use it.
Here's a video I took on Febuary 13th to give you a better idea of the layout of the house.