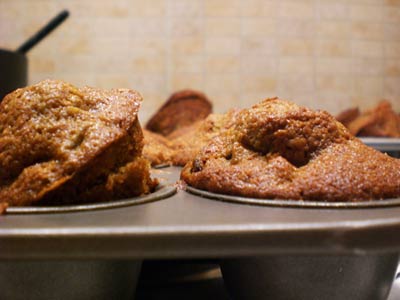 Perhaps you can imagine my dilemna: I love eating and am on a diet. Here are the results from my latest attempt to turn a butter-rich muffin recipe into a more healthy treat. The original recipe for Apple-Pecan Buttermilk Muffins came from Bo Friberg's The Professional Pastry Chef.
I cut down the butter, increased the amount of liquid, substituted low-fat yogurt for buttermilk, and skim milk for half and half. I also got rid of the streusel topping. You might be thinking, "how are these muffins ever going to taste like anything if you take all the good stuff out??" But the muffins are chock-full of pears, raisins, nuts, spice, and ok, chocolate chips. If you want to reduce calories and fat even more, leave out the nuts and chocolate chips.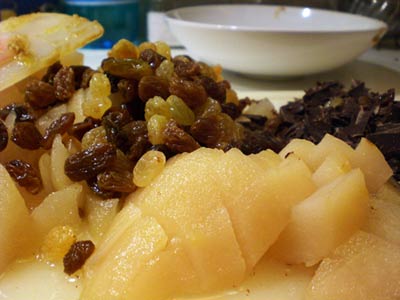 This is not a quick-and-easy recipe, in the sense that it uses two kinds of flours and you have to poach pears and measure honey. Speaking of which, I used Waiheke Island Manuka honey, great stuff that a bride from New Zealand who was staying at the B&B I used to run gave me as a thank you present. As with any muffin recipe, you don't want to incorporate too much air or overmix. So beat the butter with a paddle just until smooth, mix the wet ingredients together well and whisk the dry ingredients together well before incorporating the two together. And remember, more acid = increased tenderness, so if your yogurt's a little old, all the better.
Smart Raisin & Pear Muffins
6 oz. Butter, soft
8oz. Light brown sugar
1/2 cup Honey
3 eggs
1/2 tsp. Vanilla
1/2 tsp. Salt
2 tsp. Baking Powder
2 tsp. Baking Soda
10 oz. Cake flour
1 1/2 tsp. Cinnamon
1/2 tsp. Nutmeg, ground
3 oz. Whole wheat flour
1 cup Low-fat yogurt
2/3 cup Skim milk
4 Pears, poached (or very ripe) & diced
1/2 cup Raisins
1/2 cup Chocolate chips/chunks
1/2 cup Nuts, chopped
Method
1. Cream together butter, sugar & honey. Add the eggs and vanilla and mix well.
2. In a separate bowl, whisk together the dry ingredients.
3. In yet another bowl (thank god for dishwashers!), mix together the yogurt and milk.
4. Add the dry and wet ingredients to the butter mixture in three alternating segments. Stir in pears, raisins & nuts.
5. Fill the cups of a buttered or paper-lined muffin tin 3/4 full and bake in a preheated 395° F oven for 20 minutes. For mini-muffins: 400° F oven for 8-10 minutes. Remove from oven, let cool 2 minutes and turn on sides to finish cooling.
Yield: 14 muffins + 24 mini-muffins or 24 large muffins