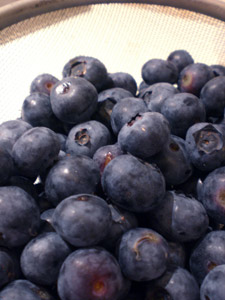 Our neighbors in the mountains have been giving us GREAT blueberries in the last couple of weeks.  What a treat!  I love eating them in my morning cereal and mixed into fior di latte or vanilla ice cream in the evening.  Yummers. 
I've been urging the Badellino family to plant a blueberry bush in our mountain garden next year.  None of them are very fond of blueberries though, so I may just have to keep suck-holing them off the neighbors/stealing them when nobody's looking.
Eating all these blueberries reminds me of one of my favorite children's books, Blueberries for Sal, by Robert McCloskey, which my parents used to read to me when I was little.
I keep wanting to make blueberry muffins, but somehow I seem to eat them all by the time I get around to making them…