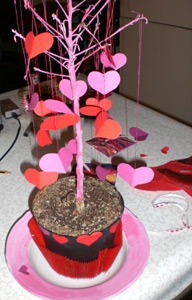 While I was home over Christmas, our one and only plant died. 
I know what you're saying ("surprise, surprise…"), but when I discovered the crunchy leaves, I was shocked.  It seemed like such a hardy plant (afterall it lasted in the Crane/Badellino household for over a year).  Luca is always the first to remember that it's time to water the plants.  Apparently he was so overwrought by my extended absence that he completely lost his mind.
Well, I planted a single giant zinnia today to try and make up for our loss (I've got garden fever this week).  Then I decided to turn our dead plant into a Valentine's Day Party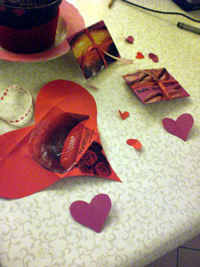 centerpiece.  Ding!
 I must admit that I was a little worried at first because I only had watercolors on hand and I didn't think they would cover the woody stem of my dead plant.  But they worked like a charm!  (And are way cheaper than those expensive acrylic paints out there).  As you can see, I painted it pink and then cut coordinatingly-colored hearts out of construction paper.  After poking the hearts with a needle and stringing them with red or pink thread, my dead tree is now a diva V-day tree!  (I got a little carried away with the watercolors and planted the plate as well…).
I plan on doing a sexy/erotic theme at the Valentine's day party this year.  (Reminiscent of the Un-Valentine's Day party of yester year).  While I was in my creative mode, I whipped out a few invitations as well (most people will receive a verbal invite).  I used Martha's idea for folded heart-shaped Valentines and added my own little touch (pasted lips cut out of various magazines onto the outside of the envelopes instead of using expensive, hard-to-find double-sided paper).  Her "close the envelope with a heart sticker" idea seems clever, but the sticker totally did not hold the cards closed, so I wrapped them in festive ribbon instead.  The insides read something like, "You're invited to the party of the year!  An erotic celebration in honor of Saint Valentine.  Dress sexy and prepare yourself for a night full of pleasure…"