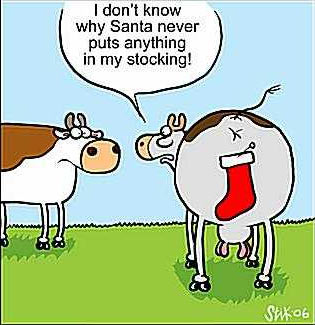 Now that we've finished stuffing turkeys, it's time to start stuffing stockings!  That's right, folks: MoltenChocolate's annual Stocking Stuffer Contest is officially on!  Have you been pining for a new pair of gloves, but don't know how to get the word out?  You're in luck, because Santa Claus himself reads my blog everyday (Google told me).  What do you want in your stocking this year?  Leave a hint for Santa in a comment below and automatically recieve a fabulous MoltenChocolate prize!  Your stocking wishes don't necessarily have to be realistic and extra points are awarded for creativity.
Here are a few things I'm hoping for this year:
An acai berry
Something handmade
Salad hands
Real maple syrup
The world's largest plastic container of reduced fat peanut butter
Plastic baggies
Givenchy or Bvlgari perfume (Givenchy: the one in the purple bottle, Bvlgari:classic)
Jewelry cleaning cloth
2 bottles of vanilla extract
Baking soda
Baking powder
Sesame seeds
Small gift certificate to istockphoto.com (like $5-$10)
Sturdy wide toothed comb for wet hair
Burned movies: Anne of Green Gables The Continuing Story (not AofGG or AofA, which I already have, but the 3rd edition), Home Alone, Sound of Music, My Fair Lady
Dried cherries & dried cranberries in large quantities
Magazine subscription
Interesting wine glass charms
Something from Etsy.com
Jewelry box, if it fits, mostly with spaces for earrings & necklaces
Books
A year at home with the family
Tickets to a theater show or concert
Trip to Paris or other interesting European city
Paper panettone molds (good luck, Santa, they're like impossible to find!)
And, if Santa's really feeling spendy this year, a really good digital camera, but this is optional
Remember, everyone who participates receives a fabulous prize!  If you need some ideas, try checking out the entries from years past:
The Ultimate Stocking Competition 2007
Merry Christmas!