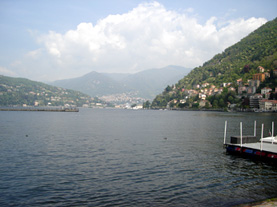 Apparently I never told you about the surprise birthday trip I organized for Luca a couple years ago.  I have a bad habit of giving presents that I would like to receive myself, and this was a prime example: a long weekend in Zurich (with stopover on Lake Como) and tickets to a Luciano Pavarotti concert.  I got the idea while watching the 2006 Winter Olympic opening, during which Luca mentioned that it would be nice to see Luciano live sometime.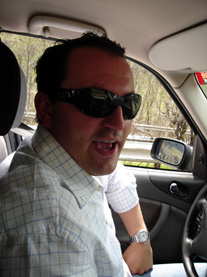 Unfortunately there were a couple of snafoos along the way – it should have taken only 4 hours to drive to Zurich, but there was roadwork and ended up taking 8 hours.
When we finally arrived, our hotel was nice, on the top floor overlooking the river Limmat and positioned  literally 10 feet away from a church bell tower that  rang the hour every hour, conveniently reminding us (and the rest of Switzerland) what time it was –  even at 5 in the morning.
Nonetheless, we were hardly ever in the hotel and enjoyed ourselves exploring the city, taking a boat tour of Lake Zurich, shopping on the famous Bahnhofstrasse , etc.
The concert was on Sunday evening and we mistakenly took the wrong train in the complete opposite direction of the stadium.  Incredibly stressed that we were going to arrive too late and they wouldn't let us in (we still needed to pick up our reserved tickets at the box office), we ran around asking for help and finally found a train engineer whose grandmother was Italian and could explain to us which train to get on.  Sweaty and hot, we arrived at the stadium a half an hour late to find the entire place deserted.
The concert had been cancelled.
Vacation from hell, right?  Happy birthday Luca!  So we went back into town and had dinner at a Spanish restaurant where the waiters were mean and openly discriminatory towards tourists and to top it all off they charged us $28 for a dinky plate of unsavory grilled vegetables.
All in all it was an educational experience and we laugh now looking back on the trip (though at the time it really wasn't funny).  Here are a couple pictures of the highlights.  I wish I had one of the empty stadium!