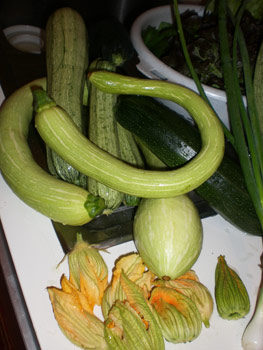 Zucchini season is officially in full swing here in Northern Piedmont.  We've been eating zukes every night for the last month, and I have to admit that I'm loving it!  Our family motto this month is "Zucchini: It's what's for dinner tonight".
Having to prepare the same vegetable for personal consumption every day for 30 days in a row is a good way to get intimate with zucchini, or any vegetable for that matter. (Ok, probably shouldn't have used zucchini and intimate in the same sentence, but let's not go there). I have a whole new appreciation for green veggies and look forward to eating them now -which is saying something, since I've always been more of a chocolate person than a vegetable person. Having a garden has decidedly broadened my culinary horizons.
And I'm learning a lot along the way too.  For instance, did you know that zucchini plants are totally prickly, I mean those suckers hurt when you touch the leaves or stems.  Lots of nights I spend a goodly amount of time picking zuke prickers out of my hands and legs.
Unfortunately, it seems like everyone else in town planted zucchini this year as well.  I say unfortunately because our seven zuke plants (1 trumpet, 2 light green and 4 dark green plants) churn out an average of ten pounds of zucchini every two days.  That's 30 pounds of zucchini a week, 120 pounds of zucchini a month.
That's a lot of zucchini.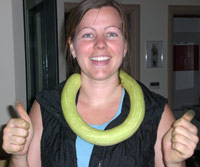 We've gotten to the point of haggling every passerby and begging them to take home what's become known around town as the Crane/Badellino Zucchini Medley.  Some of them are excited to have the vegetables and share their plans for minestrone making.  But most say things like "thanks, but no thanks, I've already got zucchini growing out my ears" or "hmm, i'd take them but I don't know how to cook them…"  Dude, lame excuse.
One of the best discoveries has been all the great things you can do with the flowers.  I don't think I ever ate a single zucchini flower in the States, but here we eat them all the time when they're in season.  You can stuff them with meatball-type stuffing, or put a piece of fontina or other cheese inside.  You can fill them with prosciutto cotto (ham) and bleu cheese or chop up a mix of vegetables to put inside.  At a restaurant recently, we had them filled them with branzino (sea bass) and herbs and steamed instead of fried.  The other night we put in ground turkey and goat cheese and they were really tasty.  We like to put cornmeal in the batter to give them a little extra crunch.  You just have to be careful because some of the flowers have bitter bottoms.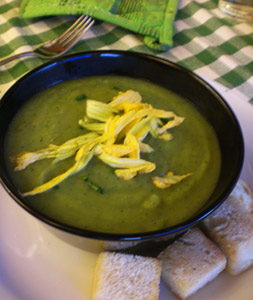 My favorite variety is the trumpet zucchini because they seem to have more flavor and I love their soft, creamy consistency.  I also love the way they grow in funky shapes and made a huge gnome canopy in my garden.
So, what have we been making besides stuffed zucchini flowers?  Zucchini frittata, pasta with zucchini and sundried tomato sauce, zucchini and potatoes baked in the oven, ginger zucchini, stuffed zucchini, zucchini and cherry tomatoes, and our new favorite:
Zucchini Basil Soup
2 pounds zucchini, trimmed and cut crosswise into thirds
3/4 cup chopped onion
2 garlic cloves, chopped
A couple tablespoons of olive oil
3 cups water
1 cup packed basil leaves
The original recipe is from epicurious, but their garnish seemed like a lot of work for a garnish, so I sliced a zucchini flower and put it on top and served the soup with croutons.  I also added more basil and cut the oil.  No need to be too precise when you're chopping the veggies, since they're all going to get pureèd at the end.  Just make sure they're roughly the same size so they cook evenly.  It's easy: Sautè the garlic in a little bit of olive oil, add the chopped onion and sweat until tender.  Add the chopped zucchini and cook until the zucchini is about 3/4 cooked.  Add the water and continue cooking, partially covered for 10-15 minutes.  Throw in the basil and blend the whole thing right in the pot with an immersion blender.  Season with salt (you need lots) and walah!  Healthy, quick, easy and cheap zucchini dinner in a bowl!  Ding.