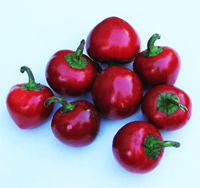 Rosanna, Luca's mom has been making this AWESOME sweet/hot red pepper marmalade lately that I am totally addicted to.  Though pepper season here just about ended with our first big snow this weekend, I'm looking forward to making it next fall (and eating my way through Rosanna's stock in the meantime).
It's best with caprino or robiola cheese on bread or grissini, I think.  Luca likes it with drier, aged cheeses, but I think it covers up their flavor too much.  I like the contrast of the hot spicy marmalade and the cool creamy soft cheeses.  It's so beautiful, you can't help but fall in love.  Sometimes (okay, only when I don't have either cheese or bread on hand), I open up the jar just to look at the shiny red pepper gem-iness.
Ingredients
1kg Red Bell Peppers
2.5 hg Hot Red Peppers (the little, perfectly round ones)
1 cup Vinegar
1 kg. sugar
Method
1.  Clean and weigh ingredients.
2.  Dice the peppers into small pieces and cook for 10 – 15 minutes with the vinegar and sugar.
3.  Transfer the mixture to the mixer and blend.  Replace the mixture on the stove and cook until it's dense.  Transfer to sterilized glass jars while hot.  Close the jars and turn on their tops for ten minutes.  Place jars right side up and let cool.
 These pictures don't do the marmalade justice, but maybe you can get an idea…