September 13, 2008
Categorized: Las Vegas Tagged: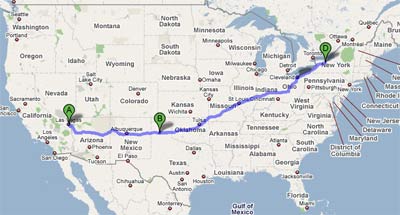 I found this mini travel diary amongst some forgotten belongings when I was home last month and hope you all enjoy reading about that exciting trip I took in mid-December, 2005…
5:30PM  Stop near Kingman, AZ for dinner at Wendy's: Mandarin Orange Salad, rootbeer, frosty; cost $6.76.  The salad has extremely low eatability factor and takes about 10 minutes to assemble.  I spilled salad all over the table when I was trying to mix it.  Oh dear.  I should have ordered something warm – this salad is all cold and crunchy.  It's just that I'm really into crispy noodles lately.  Misty the cashier-in-training is so freaking slow.
It took me soo long to leave Las Vegas!  After seven months of depression and work, work work I still can't believe I'm "Leaving Las Vegas".  I have no idea where anything is in my car.  Mmm, I love frosty's.  Salads I can live without.  At least…premade Wendy's salads.  My phone is pretty dead.
After two hours of driving, I'm already starting to fall asleep and get bored!  Hellow!  Thirty-eight hours more to go!  Wake up girlfriend! (Sidenote: so far I've listened to The Band, the mixed CD's Andy from Bouchon gave me for the trip, Mexican tunes and Country).
This salad really sucks.  should have gotten a baked potato and chili or a chicken sandwhich.  There's enough freaking iceburg here for a whole family of rabbits.  I already feel sick.
I wonder how far I'll get tonight…I wonder where I'll be sleeping for the next three days?  Hahahaha!  It's taking forever to eat this frosty.  It's giving me a cold headache.  I think I'll just leave this impure refuse for the rats.  Time to get back on the road.  It's already pitch black out.  Good thing I'm staying on the same road for the next 1012 miles ! HA!!!
8:00PM  Have made $4, $8 and $9 gas stops so far.
10:00PM I'm stopping every two hours so as to not fall asleep.  Two large pops don't seem to be doing the trick, so at Love's in Justin City (?I think…) I pick up some Red Bull and Smart Pop.
12:30PM Stop for gas and another energy drink (worked well last time, though I feel a bit like I'm having a heart attack). "Kick start your heart!" Chef Kipp would say. Still haven't found my CD's. Getting kind of tired. Don't really feel like finding a hotel- may just sleep in the car. Amarillo is the goal for tonight. but may only make it to Albequerque or a little past there…We'll see.
Saturday, 9AM Freaking Amarillo feels like 8 million miles away 15 hours of driving and two time zones later I arrive and check into The Best Western (a very ghetto one) at 8:45AM. Housekeeping better not wake me up. Who installed the shower at at 5 feet!? Hello!!!
Highlights of the trip so far:
Beef brisket ad in a cow field
Purple Texas sunrise
Did I mention that I got pulled over in New Mexico – apparently there was a 75 mph speed limit.
Where's my camera?!
7:20PM Stop in Shamrock, TX at McDonald's – their bathroom sink was in the shape of the state! HA! I find Enya and the Spanish mix CD's that Ruben (buddy who worked the night shift with me at Bouchon) gave me. Thank God. I'm starting to have a crush on Randy Travis because of his sexy voice and use of words like lonesome and whiporwhill (I'm driving farther than a whiporwhill's song tonight). On the radio they're playing Texan Country Christmas music. …there are lots of windmills here… Indianapolis or Saint Louis tonight?
Sunday, 5AM Stopped in Rollo, MO to sleep….there was a weird guy at Wendy's and a nice guy at the gas station (gas costs $1.57 here). There are so many truckers – fish schools of trucks!! They seem to have a series of light signals and trucker communications. I wish I could be a part of it.
Christmas in America!!
1:45PM Cross the Mississippi River
5:44PM WHERE THE HECK is Indianapolis?!?!!?!? Stop for nap in McDonald's parking lot.
Truckers – Are you my mother?
2:10AM Monday Snow in Ohio. Decided to push on through to Cleveland. I think I'll only have to drive for four hours tomorrow.
Drove like a bat out of hell from Colorado to Cleveland until it started to snow – there are no snow plows out. Back down to 50mph, which is a big difference when you're used to going 80mph. Apparently the windshield wiper fluid they put in my car in Las Vegas didn't have antifreeze in it. I stop to buy a bottle of water with a sport top and a couple liters of windshield wiper fluid with antifreeze in it. Every so often I roll down the window and squirt some on the front window so I can see again. Hahahaha. This is so ridiculous.
Drag between 7-10pm – took two cat in the hat naps (which basically involves me locking the doors. pulling a big winter hat over my face and sleeping.) The second nap was one hour after the first. Woke up in a different time zone…did I sleep for 1 1/2 hours or 20 minutes?
I feel like my eyes are popping out of my head…bloodshot, barely open.
11:30PM I look and feel like a freaking vampire. Cat naps are the best if taken for 15-20 minutes.
I slide into the Hampton Inn, because it's really snowing too hard to go on. This hotel costs way more than I expected, but I'm too tired to care much right now. Plan on using towels (there are at least 2000 in my bathroom) to clean the car off tomorrow because I have no idea where my snow brush is. I feel like I've been dipped into the Wendy's Late Night Fryer: burned out, dirty, full of disgusting junk food.
Finally make it to LeRoy..not sure what time it is or what day it is. The thing I do know is that it's important to have plenty of willpower when you drive cross-country by yourself. The will to go on!! You've got to keep the big picture in mind at all times and there'll be no getting lost. Next time, I'm going to pack each day's necessities in separate plastic bags so everything is easily accessible.