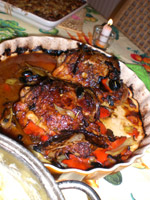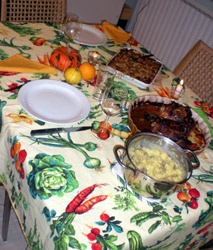 Here are some snaps from Thanksgiving 2007.  I made stuffing (that was way too salty, but still scrumpscious with plenty of crumbled sausage in it), smashed potatoes, an untraditional turkey (just two gigantic pieces  of turkey bird) with bell peppers and olives, and apple crisp for dessert.
I attempted a festive harvest centerpiece with some mini pumpkins…okay so I put some mini pumpkins on the table and called it a harvest centerpiece.
Isn't this tablecloth hot?  I love it.  It's my favorite tablecloth at the moment.  I found it at the market–already made and the right size too–for only €7!  Score.